Building a credible reputation is vital for every law firm. The right marketing strategy helps to reach the targeted audience and enhance client retention. Traditional marketing practices have worked quite well in the past. However, with the changing trends, law firms depend on digital marketing to increase their client base. A recent study reveals that law firms immediately reduce their client base by 33% due to inappropriate marketing strategies. Nowadays, people look for an attorney online, and your law firm must have a robust online presence to facilitate your clients.
Your law firm can greatly benefit from digital marketing. You can acquire customers outside your firm's location and stay connected with them. It helps to establish your expertise so that more people can find you to resolve their legal issues. Moreover, it builds a brand image for your law firm and allows you to enhance your credibility.
There are numerous advantages of digital marketing for law firms which can likely result in the growth of your practice. However, it would be best if you implemented the right marketing strategy to stand out from other firms in the town. Continue reading to find the impressive benefits of digital marketing for your law firm.
Benefits of Digital Marketing for Your Law Firm
Cost-Effective Than Traditional Marketing
Advertising through traditional marketing practices like TV adverts or billboards is quite costly, especially for newly established firms. Digital marketing offers various options to promote your brand online with minimum costs. Digital marketing is highly cost-effective and helps you control your law firm's marketing expenses. Moreover, it also helps evaluate your marketing plan so that you can make it according to your budget. You only need patience and persistence to build your brand and expand your outreach.
"Effective digital marketing is not just about pushing your message out there; it's about engaging and interacting with your audience."
Helps Target The Right Audience
Identifying your targeted audience is a crucial step in building your brand. Digital marketing helps to reach your targeted audience, who might be interested in hiring you. It gives you multiple opportunities to endorse your brand, for instance, through social media platforms, blog posts, webinars, etc. Demographics and psychographics are essential to consider when identifying your audience. Digital marketing allows you to reach your targeted audience cost-effectively and measurably.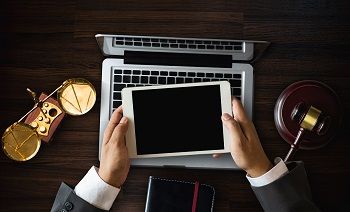 Allows to Create of a Better Online Presence
Your law firm must have a solid online presence so relevant people can easily reach you. If you are not findable on the internet, you may lose your clients who might be looking for legal services. Digital marketing creates a better online presence where you can interact with existing or new clients. It is an excellent way of building your brand by using various platforms. For instance, social media marketing allows you to successfully advertise your services and strengthen the bond with your clients.
Helps Attract More Clients
Digital marketing helps you keep your existing clients and attract new ones. It lets you directly communicate with clients who see your content via social media platforms or other sources. This not only helps to keep your existing clients but also attracts more clients for your business. Digital marketing allows you to invest in Search Engine Optimization (SEO) to rank higher. SEO is vital in reaching more clients online and helps you grow organically.
Digital marketing builds strong connections with influencers and like-minded brands. It lets you expand your outreach by covering three essential areas. First is data-driven email marketing, which helps prioritize inefficiencies in your practice so you can grow. The second is IP and location-based marketing, which gives instant results with a better ROI (Return on Investment). The third is target-centered social media advertisements, where you can reach new clients with specific parameters. These three areas can play a significant role in expanding your outreach and growing your legal practice.
Improves Customer Retention
You must maintain strong customer retention so that your law firm can thrive. You can achieve this by using modern digital marketing strategies that help you stay ahead of the competition. Digital marketing gives several opportunities to improve customer retention for law firms. These include onboarding campaigns, active customer campaigns, lapsing customer campaigns, and re-engagement customer campaigns. These campaigns are highly influential for every business, including law firms. It helps keep the clients intact or engaged, happy, and ready to spend to attain a service.
Helps You Establish An Online Forum
Digital marketing lets you establish an online forum to interact with your existing and new clients. You can post informative content to educate your audience about hiring your legal services. Or you can invest in video marketing to endorse your brand. You can showcase your office or legal team to establish brand recognition in potential clients' eyes. Plenty of digital marketing opportunities allow you to interact with your clients directly. You can encourage a question-answer session to quickly clear clients' queries or hold webinars to attract more clients.
Final Words
Most clients like to work with a reputable and credible law firm. Digital marketing helps people to find and know about you on various platforms where you can advertise your brand. It can significantly impact the level of your practice and helps you in finding your competitive advantage. Invest in local SEO to stand out and grow your brand awareness.
Resource:
The Most Important Factor For A Law Firm's Digital Marketing